Team Dynamics
Teams are at the very heart of an organization's success in achieving its objectives and bringing its vision to fruition.
Yet developing high performing teams is a complex endeavour. After all, teams are comprised of individuals and therein lies the rub.
One strategy that has achieved much success is to adopt a program that is driven by the deployment of forensic behavioural diagnosis of your team. You will get at a very granular level a deeper understanding of every member of your teams. You will fully appreciate their unique capacities and what allows them to function effectively.
Here is a peek at an extract from one of the reports from Extended DISC® on the revolutionary FinxS® Platform.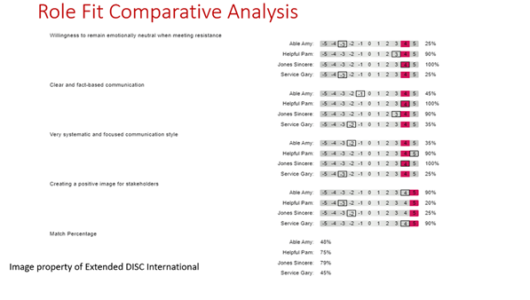 Our diagnostics will pinpoint what brings out the best in each individual and how to engage and retain them.
Critically, team members get a deeper understanding of themselves while they learn how to be themselves in your interconnected community.
 "How do I succeed from my preferred behavioural style?" is frequently asked question.
The diagnostics invariably produce "That is why!" and "Now I understand" and members unravel the mysteries of team dynamics.
Watch as they unlock new approaches to giving and receiving information, instructions and feedback!
The diagnostics underpin the process of learning the language of behaviours – DISCerning Communication!
Creating An Enabling Environment
One great benefit of using Extended DISC® Team Behavioural DNA Assessments is that you get to the core of what makes each team member thrive and what are the things that detract from their performance and engagement.
This in turn provides clarity as to the priorities that must be kept in laser focus in the current environment so as to drive the team to high performance.
We share below some of the graphical insights that will enhance your team building interventions.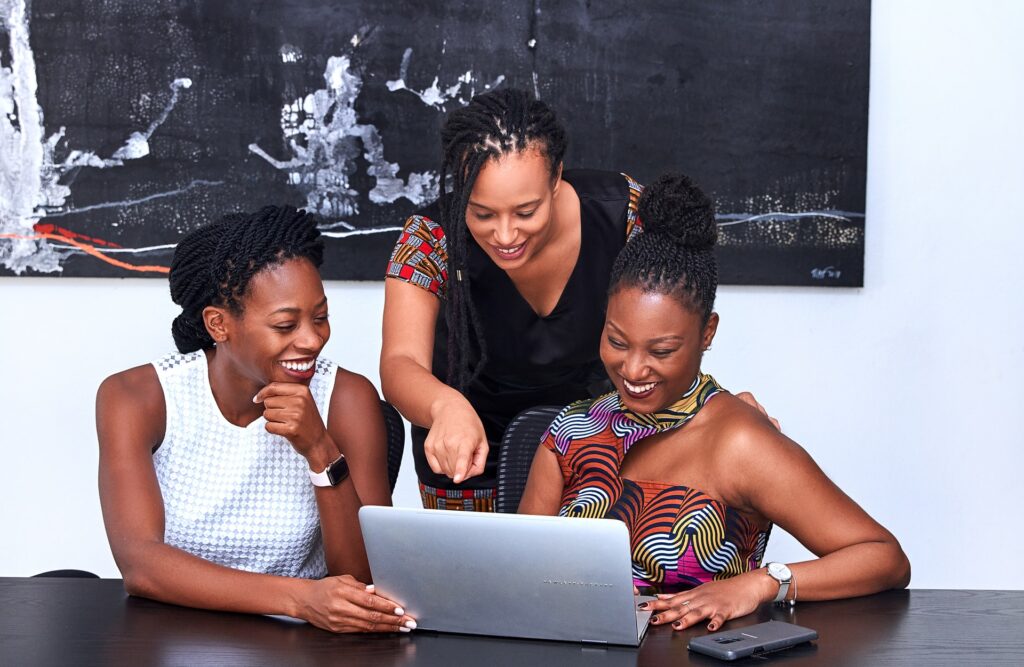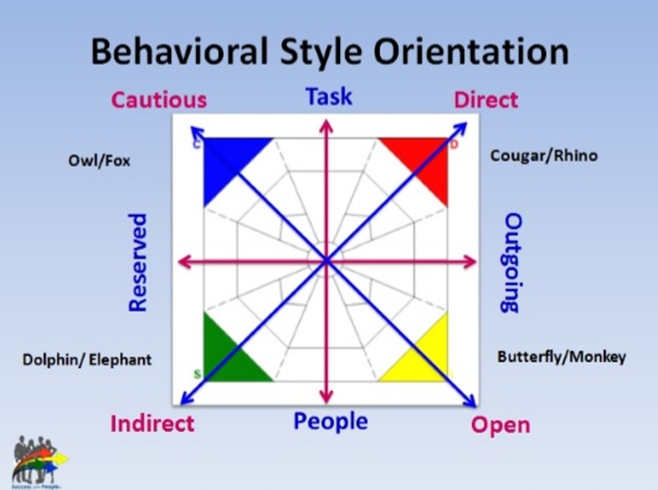 In our decades of working with teams across industries, the insightful Team Maps have been a powerful resource. Often, we stand back and listen as team members draw "That is why" and "That confirms my thoughts" conclusions from the maps.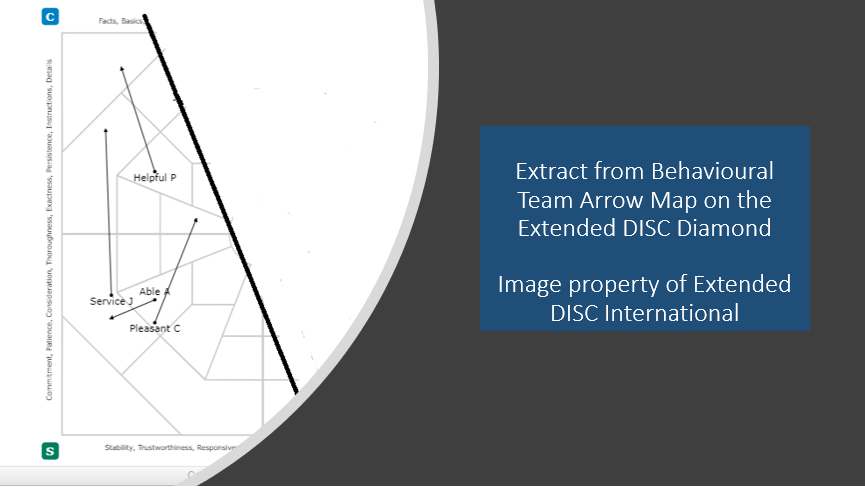 The trusty Arrow Map speaks volumes about the team! The back of the arrow identifies the individual's Natural Style (who they are just before they pull the cover over their heads at night) and the tip of the arrow relates to a perception that they have as to how they will get best results in the current environment. This map tells many compelling stories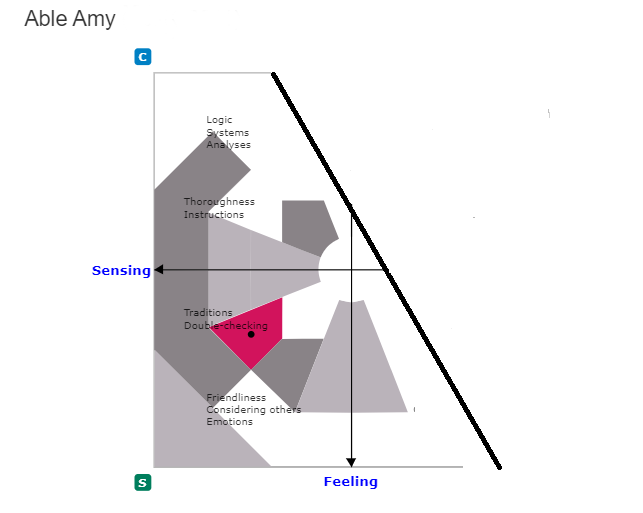 The 4 Quadrant Team Map can be brutal. It can highlight in graphic terms whether the team as a whole is well suited to function effectively in the current internal and external environments. For example, the team in this map might be challenged to compete effectively in a highly competitive, fast changing environment.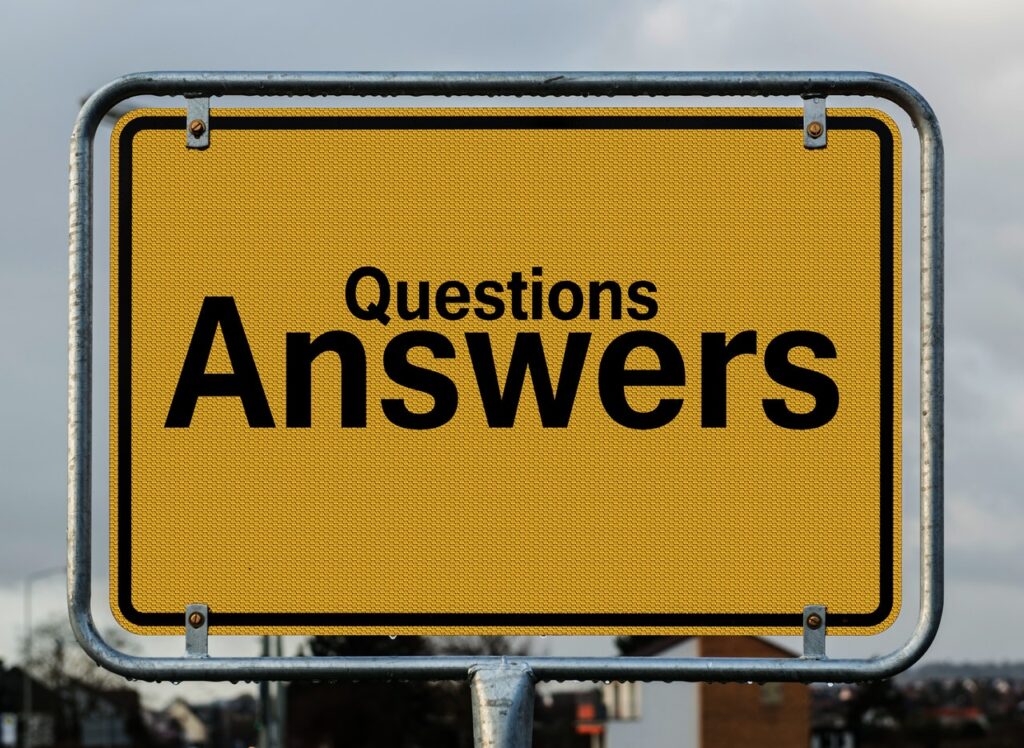 Role fit, Inter-personal Relations, Team Cohesiveness and Team Alignment to the demands of the current and future environments are a few of the powerful nuggets that are extracted from the team diagnostics.
The maps and companion diagnostics provide powerful insights into important questions:
What are the keys to success moving forward?
Is the team naturally oriented to display the behaviours that are required going forward. In other words, is the team ready to meet future challenges. Is it resilient?
If not, what are the implications?
What corrective actions can be taken?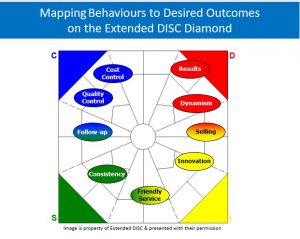 Let's have a conversation about how we can support your efforts to develop high performing teams.
We have considerable experience and enabling solutions that we will be happy to share.
Set up a no-cost, no-commitment consultation now!
Get started with Extended DISC® team cohesion and productivity reports