A healthy baby was born 10 years ago.
The FinxS® platform from Extended DISC® is a groundbreaking, internationally validated behavioural online assessment engine supporting leading organizations across the globe with forensic level behavioural diagnostics.
This information management system provides users with unprecedented experience on designing, managing and applying assessment information. For the first time ever, the product you were buying is designed by you, the end user. Not only how it looks but also what it contains. What you need is what we give you!
It is your one source for people information. Never before has it been possible to develop instruments to measure so many aspects of human personality. And not only are you able to measure things, but you are also able to design how the information is provided to you. You can tailor the information YOURSELF for different users and for different applications.
You can create state-of-the-art, tailored, targeted, branded, perfect fit products for your business. It doesn't matter if you are a small local company that just wants to make sure your team stays productive or a global organization that needs to reorganize its global management practices. It is an ideal tool for you, no matter if you are working on top management, human resources, line management, training & development or consultancy.
Actually, for the first time ever, it is possible to tailor the information in formats that works well for all these different interest groups.
Today Marks 10 years since a revolution in behavioural assessment platforms was born. A platform that introduced a new way of thinking. The platform is FinxS® from Extended DISC®.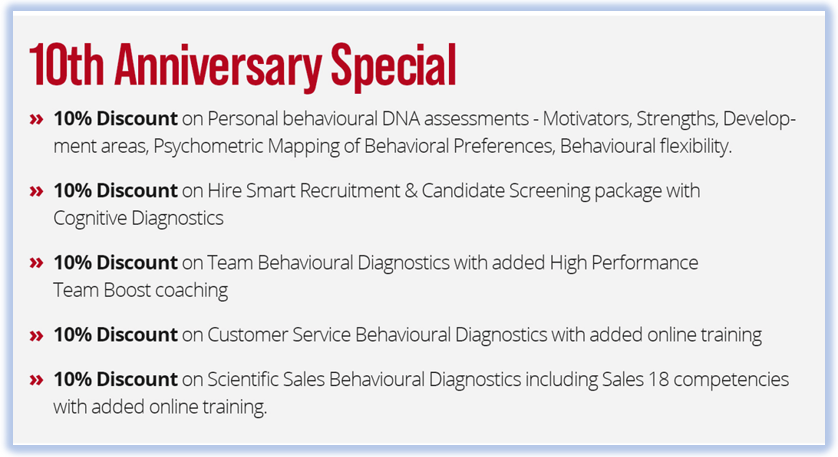 There's no additional charge to generate different reports for the same individual/group – Sales, Leadership, Administrative, Customer Service, Work Pair, Team/Group Assessments, Team culture.
We provide a powerful array of behavioural DNA assessments for Managers, Consultants, Coaches, HR & Talent Management professionals, Recruiters, Team Leaders, Sales Management and Business Development specialists.
To list all the unique features (available already in the first release), would simply take too long time.
Why don't you just experience it yourself! We are happy to demonstrate you, not only what you can do with it, but also what you can achieve with it.
info@extendeddiscsolutions.org