There is great deal of concern among employers about the frightening pace at which people are leaving their jobs.
Work to replace some of them will have to be ramped up. Alas, another pitfall awaits organizations. It is the tragedy of a BAD HIRE.
Less than one-third of persons engaged using traditional recruitment and selection approaches are considered ideal. One in four hires is a complete misfit with the majority of hires being merely workable.
The issue of adding bad hires to the already challenging HR/Talent Management situation should not be taken lightly.
The financial costs can be as low as 30-50% of the annual salary of entry level staff and rise to 100-150% at Technical and Managerial levels.
But the financial costs do not tell the full story. Reputational damage and the disruption of team dynamics could have lasting and costly effects.
Also, being aware of the panic attack that gripped a middle manager who was advised that he was not a good fit for a role, I fully recognize the catastrophic impact on the lives of those who are hired in error and have to face the risk of losing their homes and being unable to meet their obligations.
So, here are 4 ways to make sure your next hire is not a misfit.
Create an Avatar for the role
You would be amazed of how many recruitment and selection exercises are conducted without the decision makers having clarity as to the ideal candidate for the job.
They end up being guided by academic qualifications, years of experience and how likeable the candidate is.
Avoid hiring misfits by asking the question: "If we could create the ideal candidate for this role what traits and behaviours would they display?"
We create what we call an Ideal Job Template for each role. The template includes a range of behavioural competencies that are central to success in the role.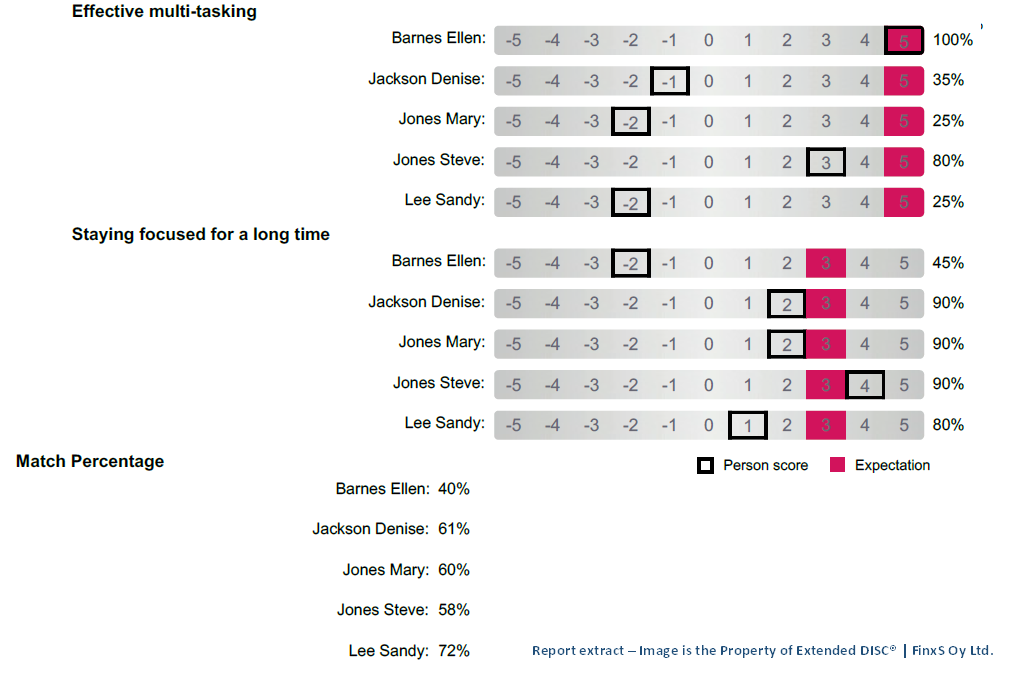 When you are shopping for a shoe you have great clarity as to what you are seeking. Bring a similar level of clarity to the recruitment process – even before you start to craft the ad.
2. Match the short-listed candidates against the Avatar
Hiring without the benefit of a granular behavioural analysis of the candidates is to be engaged in a game of chance. Many think that they are good at reading behaviours only to wonder 45 days later what happened to the person they interviewed.
High quality behavioural analyses cost a fraction of the cost of a bad hire. The gamble is not worth it.
3. Add a "Behavioural Interviewing" component
"Behavioural Interviewing" is a technical term that underpins the mantra that the best predictor of future behaviour are past actions.
Our behavioural assessment platform allows users to append an open-ended questionnaire to the psychometric assessment. The customizable questionnaire asks candidate to cite examples – from their past – of how they dealt with situations that reflect characteristics such of decisiveness, integrity, commitment, dealing with disappointment and conflict management.
4. Put the information to use when it counts!
In our experience, the majority of interviews are conducted without the interviewers having the benefit of the treasure trove of information that could be gleaned from the behavioural assessment and questionnaire.
We even include assessment-guided questions for further probing. It is that important!
BOTTOM LINE
The truth is that armed with clarity as to the ideal candidate for the role, plus the results from a sophisticated behavioural assessment process, an informed interviewing panel is unlikely to hire anything less than a good fit – providing they have access to a qualified pool of candidates.
The beauty is that the information gleaned from the assessments should follow the successful candidate into the job and guide her/his onboarding and learning plan.
Send us an email to easily schedule a no-cost online consultation or demo to examine if this is a good fit for you. info@extendeddiscsolutions.org
You can also send a direct message via WhatsApp (876) 831-1387 or (876) 535-6677
We provide a powerful set of Behavioural and Reasoning capacity tools for Managers, Consultants, Coaches, HR teams and Business Development Specialists.